Department, Center and Program Procedures
Communicating with students, prospective students, faculty, staff, alumni and friends is an important aspect of your work.
PLEASE REMEMBER: Materials at the department, program and center level MUST receive approval from the unit leader for SACS and branding compliance.
Information Handouts
The College Communications Office has developed a customized template process for information handouts and other materials. While you will be responsible for printing contracts and expenses and for the words and photographs used in the materials, we can work with you on editing, tone, audience identification and branding. We can help you with the design, using design options we have available. We offer training on this process each semester.
Newsletter Design and Distribution
To assist with design and distribution of newsletters, this is the process we follow:
Newsletter Content
The type of information to feature in a newsletter could include:
Exchange Online
The College also offers other options for communicating your stories. We invite you to submit your news to Exchange Online. Complete the news submission form with the information below. The more details you can include, the better.
Please include:
From those submissions, the College is able to post items to the online magazine, and develop news stories to share with the University Communications team for internal and external distribution.
We also use these submissions in other College outlets, such as the College's print magazine Exchange, news updates to the College and University community, updates to College alumni and its social media channels, Facebook, Twitter and Instagram.
The Exchange Online site also includes forms to submit events and "In the News" for when you are quoted or your work is published by the news media.
Exchange Print Magazine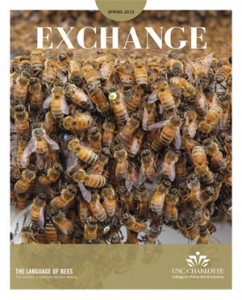 The College Communications and Marketing Office publishes the print version of the college magazine Exchange. The magazine takes a research-focused approach. If you have story ideas, please contact the College Communications Director. While not all stories can be included, due to limited space or the subject either having been covered or not fitting the research focus, we also may find other outlets for your ideas.
Access the most recent issues of the magazine in two places on-line: the Exchange Online site and our ISSUU site. We also can provide additional hard copies.
UNC Charlotte Publications
We also work with various UNC Charlotte entities and publications to spread the news from our College. To submit ideas for consideration, please email the College Communications Office.
University Policies and Standards